Investors in People Generation 6 has been developed to describe the capabilities your organisation needs to succeed. The way it is structured means that it is very easy to highlight the small steps required to achieve excellence.
By meeting the Investors in People Standard, you can be confident you're amongst the very best in the world, when it comes to leadership and people management.
Underpinning your journey towards accreditation, the framework focusses on 9 key indicators of organisations that consistently outperform their peers.
The framework's performance model provides a pathway to future progress, and a journey of continuous improvement.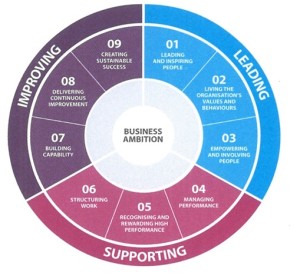 Central to Investors in People Generation 6 is leading and managing to achieve the organization's ambition.
The Standard has three  principles:
Leading
Supporting
Improving
The detailed criteria within each indicator describe practices and outcomes that ultimately lead to 'high performance'.
Much of Investors in People's success is down to the versatility of these three core principles. Essentially you can take any business issue and develop your people strategy by referring to the good practices described in the Investors in People Standard. So if your ambition is to grow, you can use the standard to make sure you do. For example, in leading, are you inspiring people by making sure everyone knows that growth is the ambition? Do you have a continuous conversation going on between leaders and people about the vision, purpose and objectives for growth? How can you improve your communication? You will find clear guidance in all the nine Investors in People indicators on how to dramatically increase employee engagement and achieve your business ambition.
If you are new to Investors in People it might be useful to get some supporting explanation of the structure, and how to use the Standard. Just  email us at services@investorsinpeople.ph, or fill in an inquiry form. We'll be happy to call you back.